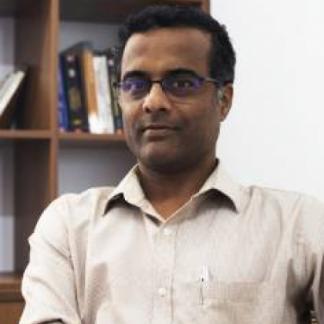 Avinash Ghalke, CFA
Profile & History
Dr. Avinash Ghalke is working as an Associate Professor in the area of Finance and Accounting. He holds a Ph.D. from IIT Bombay, Post-graduation in Finance and Systems from XLRI, Jamshedpur, and a CFA Charter Holder (CFA Institute, USA). 

Dr Avinash has over 18 years of experience, spanning Investment Research, Information Technology, Entrepreneurship, and Academics. He was associated with the Sell-Side Equity research teams at Goldman Sachs, Lehman Brothers, and Nomura, covering sectors like Oil & Gas, Alternative Energy, and Pharma across the US, Europe, and India. He has also worked with the product development and equity research teams at LIC Nomura MF. Post his stint in the industry, he worked with XIMR, Mumbai and IMT Nagpur as an Associate Professor. 

Dr Avinash has conducted training on capital markets and financial modeling in MS Excel at numerous forums including in-company trainings.
 
Research & Publications
Jadiyappa, N, Shrivastava, S, & Ghalke, A, 2022, "Social responsibility, moral hazard, and collateral requirement: Evidence from a quasi-natural experiment in India", International Review of Finance, ABDC-A (Forthcoming)
Ghalke, A, Haldar, A & Kumar, S, 2022, "Family firm ownership and its impact on performance: Evidence from an emerging market", Review of Managerial Science, ABS-2
Ghalke, A and Kumar, S, 2021, "SME financing through public equity: Review of the Indian SME Exchanges", Indian Growth and Development Review, ABDC-B
Ghalke, A and Kulkarni, S, 2021, "Mutual fund manager turnover: An empirical investigation of performance", Accepted for publication, International Journal of Managerial Finance, ABDC-A
Ghalke, A., 2021, "Critical Perspectives on Public Systems Management in India-Through the Lens of District Administration." Prabandhan: Indian Journal of Management 14.5-7, 89-91.
Ghalke, A., Chakravorty, C., and Rao, SVDN, 2018, "Earnings Management in IPO Bound Firms: Evidence from Indian SME Exchanges" Asian Economic and Financial Review, 2018, vol. 8, issue 8, 1126-1139 (ABDC-C)
Case Publication
Ghalke, A, Kakani, RK and Varma, H, 2022, Pythagoras Global: Emerging Market Funds and the conundrum of Family Ownership, Ivey Publication (Forthcoming)
Conferences
Ghalke, A., Chakravorty, C., and Rao, SVDN, 2018, "Have SME exchanges in India delivered on their promises?", 3rd International Conference on Financial Markets & Corporate Finance (ICFMCF 2018), IITK
Other faculty in spotlight