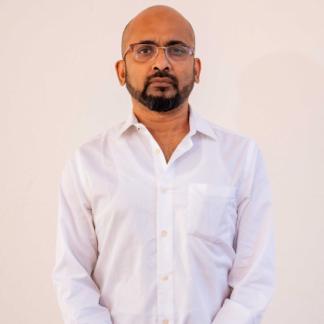 Qualifications
B.Tech, MHROM (CU), PhD (IIT Guwahati) 
Areas of Expertise
Group dynamics, HR Strategy, Performance Management and HR Analytics.
Vinit Ghosh
Profile & History
Vinit Ghosh has completed his PhD in the area of OB/HR from Indian Institute of Technology, Guwahati. He is a B.Tech in Information Technology and completed his Masters in Human Resource and Organizational Management. Vinit has worked 8 years in various multinational firms such as Cognizant Technology Solutions and HCL Technologies as a business process management consultant. He also worked as a Research Officer in MHRD-IPR Chair Office where his responsibilities catered to research works in Intellectual Property Rights and Innovation. He has published research articles in journals of national and international repute. His article on e-HR and cloud computing has been published in the book e-HRM-digital approaches, directions and applications which is one of the first textbooks on electronic HR developments. His research interests include workforce diversity management, creativity and innovation, technology enabled HRM and HR analytics.
Courses taught: Organization Behaviour, HRM and HR Analytics
Research
Papers:
Ghosh, V., Sengupta,T., Narayanamurthy,G., & Ishizaka, A. (2021). Examining collective creative self-efficacy as a competency indicator of group talent management: a study of SMEs in an emerging economy. The International Journal of Human Resource Management, DOI: 10.1080/09585192.2021.1988679
Sarkar, K. & Ghosh, V. (2021). Plantation Workers and the OSHWC Code, 2020. Economic and Political Weekly, 56(38), Commentary.
Mukerjee, H.S., Acharya,S.,  Stl, V., & Ghosh,V. (2022) Business-techno [IT] consultants: A critical assessment of the digital future talent and learning needs. Human Resource Development International, DOI: 10.1080/13678868.2022.2050132
Ghosh, V., & Tripathi, N. (2021). Perceived inclusion and team creativity climate: examining the role of learning climate and task interdependency. Management Research Review, 44(6), 849-866.
Ghosh, V., Kabra, G., & Mukhejee, H.( 2022). Influence of knowledge leadership on IT project performance and quality practices: Examining the role of leader's risk-mitigation efforts. International Journal of Knowledge Management, 18(2), XX (forthcoming)
Cheng,Y., Sinha, A., Vinit Ghosh., Sengupta,T., & Luo.,H.(2021). Carbon tax and energy innovation at crossroads of carbon neutrality: Designing a sustainable decarbonization policy. Journal of Environmental Management, 294.
Tripathi, N., & Ghosh, V. (2020). Deep-level diversity and workgroup creativity: The role of creativity climate, Journal of Indian Business Research (Forthcoming)
Kabra, G., Ghosh, V.(2020). Factors influencing adoption of cloud computing services in HEIs: A UTAUT approach based on students' perception, Int. J. of Business Information Systems (Forthcoming)
Ghosh, V., Bharadwaja, M. (2019). TMX and innovative behaviour: The role of psychological empowerment and creative self-efficacy. International Journal of Innovation Science, 11(3), 344-361.
Tripathi, N., & Ghosh, V. (2018). Gender differences in the effect of downward influence strategies on perceived stress and general-health: The mediating role of organizational justice. Employee Responsibilities and Rights Journal, 30(1), 1-35.
Ghosh, V., Tripathi, N. (2018). Transforming human resource management processes through intelligent systems. The Indian Journal of Industrial Relations, 53(4), 707-710. 
Other Publications:
 Tripathi, N., & Ghosh, V. (2017). Work Motivation: History, Theory, Research, and Practice by Gary P. Latham [Review of the book Work Motivation: History, Theory, Research, and Practice]. Psychological Studies, 62(1), 109-111.
Sociological and Psychological Foundation for Social Work for Post-Graduate distant learners of KKH State Open University, ISBN: 978-93-87940-13-0.
Experience
Total 8 yrs. of experience in various IT management consultancy projects across multiple client bases such as USA, Europe and EMEA region.
Few key consulting activities:
HR process improvement initiatives at AXA, Australia. 
IT Governance roadmap for an Australian Bank. 
BPM requirement analysis, development and client management, NewYork, USA
BPM evaluation and BPM ROI Templates for a Fortune 500 IT company's sales team. 
Showcase demos, presentations to the top-notch clients on the RFPs, proof-of-concepts as part of core SOA-BPM pre-sales activities.
 
Conferences
Tripathi, N., Ghosh, V., & Rawat, R. (2016, July). Downward Influence Strategies and General-Health: The mediating role of Organizational justice. Paper presented at the 31st International Congress of Psychology Conference of held at Pacifico, Yokohama, Japan, during July 24-29, 2016.
 
Book Chapters
Ghosh, V., & Tripathi, N. (2018). The NextGen HRM: e-HRM in Cloud. In Thite, M. (Ed), e-HRM: Digital Approaches, Directions and Applications. Routledge Publications
Kabra, G., Ghosh, V., & Ramesh, A. (2017). Enterprise Integrated Business Process Management and Business Intelligence Framework for Business Process Sustainability. In Paul, A., Anand. S., & Bhattacharya, D.K. (Eds.), Green Initiatives for Business Sustainability and Value Creation. IGI Global. 
Other faculty in spotlight