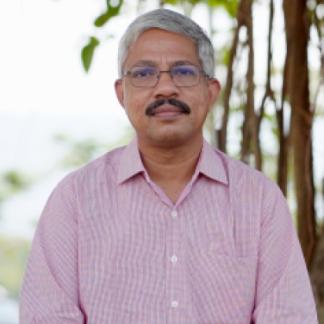 Qualifications
B. Pharmacy, M Pharmacy, MMM/ MBA, MSc (Health Economics, Policy & Management), PhD
Areas of Expertise
Creating & Managing Brands, Understanding Consumer Behavior, Health Economics
 
Ajit Parulekar
Profile & History
Dr. Ajit Parulekar is an accomplished academician renowned for his extensive experience in both the corporate and academic realms. Currently serving as the Director of the prestigious Goa Institute of Management (GIM), he holds the position of Professor of Marketing with the Health Care Management Programme. With a diverse background in brand management within the pharmaceutical industry, Dr. Ajit Parulekar brings a unique perspective to his role.
Joining GIM in the year 2000, Dr. Parulekar has played a pivotal role in shaping the institution's success. He spearheaded the establishment of the Health Care Management program in 2013, showcasing his commitment to addressing the evolving needs of the industry. Additionally, he has actively contributed to various areas of academic administration, including program management, admissions chair, placement chair, and chair of alumni affairs.
Beyond his academic endeavors, Dr. Ajit Parulekar has made significant contributions as a consultant, working with prestigious corporations, government departments, and international organizations. His expertise has been sought by entities such as the Government of Goa, Indiapost, UNDP, and the Ministry of Health & Family Welfare, among others.
Dr. Parulekar's academic contributions are extensive and diverse, with publications ranging from books, book chapters, and journal articles to winning two best paper awards. He has also been a visiting faculty member at renowned business schools, including S.P Jain Mumbai, select IIMs, Antwerp Management School in Belgium, and ISCTE Business School in Portugal.
As a testament to his leadership and expertise, Dr. Ajit Parulekar serves on several Boards and is an esteemed member of the advisory board for two non-profit organizations. His areas of professional interest span branding, consumer behavior, healthcare financing, and the future of higher education.
With his wealth of industry experience, outstanding academic contributions, and commitment to driving positive change, Dr. Ajit Parulekar continues to excel as a visionary leader, inspiring students and fellow academicians at GIM and leaving a profound impact on the field of management education.
 

Courses taught: 
Brand Management, Consumer Behavior, Marketing Strategy, Marketing Management, New Product Marketing, Health Economics, Financing & Paying for Health Care
Also taught at:
SPJIMR Mumbai, IIM Rohtak, Antwerp Management School, Winchester School of Art, Universiteit Antwerpen
Experience
20 years in academics, 5 years in industry
Other faculty in spotlight