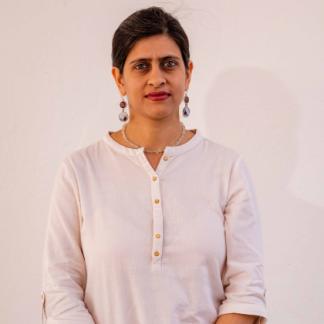 Qualifications
Ph.D Health Sciences, Master of Public Health
Visiting Research Fellow at LMSAI, Harvard University
Areas of Expertise
Public Health, Health Systems Financing
Kheya Melo Furtado
Profile & History
Kheya is an Associate Professor of Healthcare Management at the Goa Institute of Management. 
Her areas of research, consultancy, and teaching are Health Systems Financing, Public Health, and Epidemiology. 
Her current research focuses on the implementation assessment of PMJAY and other publicly financed health protection schemes in India, implemented at the national and state level.  She has secured research projects as Principal Investigator from the World Health Organization (WHO) and Harvard School of Public Health. 
Prior to GIM, she served at the Health Division of the NITI Aayog, Government of India, where she implemented key projects such as the NITI Health Index for ranking States & UTs on their performance in Health; the drafting of the Health Chapter of the Three- Year Action Agenda for Government of India 2017-18 to 2019-20 and the NITI District hospital index for monitoring the performance of public hospitals. She also contributed policy inputs on the various national health schemes and initiatives.
Her doctoral research was carried out in disease surveillance and private sector participation, under the INSPIRE fellowship award of the Department of Science and Technology. 
 
Research
Publications:
Furtado KM, Raza A, Mathur D, Vaz N, Agrawal R, Shroff Z. The trust and insurance models of healthcare purchasing in the Ayushman Bharat Pradhan Mantri Jan Arogya Yojana in India: early findings from case studies of two states BMC Health Serv Res. 2022 Aug 18;22(1):1056.
Furtado KM, Kar A. Private Sector Engagement for Infectious Disease Surveillance in Mixed Health Systems: Lessons from a Model Dengue Reporting Network in India. Journal of Health Management. April 2022. doi:10.1177/09720634221091011
McConnell M, Mahajan M, Bauhoff S, Croke K, Verguet S, Castro MC, Furtado KM, Mehndiratta A, Farzana M, Rashid SF, Cash R. How are health workers paid and does it matter? Conceptualising the potential implications of digitising health worker payments. BMJ Glob Health. 2022 Jan;7(1):e007344. doi: 10.1136/bmjgh-2021-007344. PMID: 35078811; PMCID: PMC8796226.
Furtado KM, Bhide P, Mathur D, Gedam P, Jha R, Agrawal R, Singh Anand J, Achungura Kabaniha G, DeGraeve H. An Assessment of the trust and insurance models of AB PMJAY implementation in six states. Policy Brief. World Health Organization 2022. Available at: https://apps.who.int/iris/handle/10665/363948
Furtado KM, Bhide P, Mathur D, Gedam P, Jha R, Agrawal R, Singh Anand J, Achungura Kabaniha G, DeGraeve H. An Assessment of the trust and insurance models of AB PMJAY implementation in six states. World Health Organization 2022. Available at: https://apps.who.int/iris/handle/10665/363947
Raza A, Furtado KM, Mathur D, Shome BK, Varma V, Singh Anand J, Achungura Kabaniha G, DeGraeve H. Harmonization of purchasing functions of health insurance schemes of Government of Assam. World Health Organization 2022. Available at : https://apps.who.int/iris/bitstream/handle/10665/363944/9789290229131-eng.pdf?sequence=1
Furtado KM, Raza A, Mathur D, Vaz N. (2020) Assessing the Trust and Insurance Models of Healthcare Purchasing under the Pradhan Mantri Jan Arogya Yojana: early insights from two States. Working Paper. Available at https://pmjay.gov.in/sites/default/files/2020-02/WP_GIM_study_3.pdf.&nb…;
Kumar A, Furtado KM et al. The Malady in Healthcare: Agenda for Action. In: Debroy B, Desai KA, ed. On the Trail of the Black. New Delhi:  Rupa Publications; 2017.
Jain N, Kumar A, Nandraj S, Furtado KM. (2015) NSSO 71st Round: Same Data, Multiple Interpretations. Economic and Political Weekly 50(46-47): 84-87 
Furtado KM, Kar A. (2014) Health resources in a 200,000 urban Indian population argues the need for a policy on private sector health services. Indian Journal of Community Medicine 39:98-102
Furtado KM, Kumar A. (2015) Disease surveillance: Engaging the private sector. NITI technical articles. Available at: http://niti.gov.in/writereaddata/files/document_publication/Disease_sur…
Funded Research
Funded Projects

| Year | Name of Sponsor | Project Title |
| --- | --- | --- |
| 2022 | World Health Organization | Integration of health insurance schemes for Universal Health Coverage: A guide for low and middle-income countries |
| 2021 | Harvard University (sub-contract) | Learning case study on digital financial payments to frontline health workers in India |
| 2021 | World Health Organization | Health systems research for PMJAY- Assessment of implementation models in six states |
| 2020 | World Health Organization | Harmonization of strategic purchasing functions for the health insurance schemes of the Government of Assam |
| 2019 | World Health Organization | Health systems research for PMJAY- Assessment of the trust and insurance models |
Experience
2021 onwards | Associate Professor | Goa Institute of Management
2018-2021 | Assistant Professor | Goa Institute of Management
2017-2018 | Consultant | NITI Aayog
2015-2017 | Young Professional | NITI Aayog
2010-2014 | DST-INSPIRE Fellow | University of Pune
2009-2010 | Programme Manager | Prognosis 
 
Other faculty in spotlight