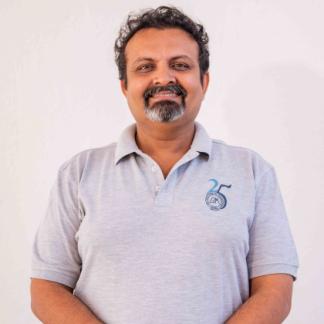 Qualifications
PhD, NIT, Rourkela; Certified ITP, LBS, London 
Areas of Expertise
Marketing Strategy, Behavior Change
Pravat Surya Kar
Profile & History
 Dr. Kar is an Associate Professor, in marketing area at Goa Institute of Management. He has more than 20 years of academic and industry experience. It includes five plus years of full-time industry experience and, 15 plus years, of core academics - teaching and guiding students. He has also led several institution development activities, consulting assignments, and research projects. His areas of strength are marketing productivity, consulting, behavior change etc. Apart from teaching, currently he is leading an institutional project for enhancing faculties' online teaching capabilities at GIM (on going). Experimenting with pedagogical innovation is one of his hobbies. 
At GIM, in past he had held responsibilities like - Program Chair PGDM Part Time (2 Years), PGDM-Part-time's admission in charge (3 Years), Chair Marketing Area. (1 Year), Led Students Leadership Development initiative at GIM. (5 Years), Member of GIM's Curriculum Review Committee (2018). Select industry projects led by him in recent past includes - Strategic reorientation of Entertainment Society Goa (ESG), A state government enterprise, (ESG, hosts the International Film Festival of India.); Industrial water usage in the state of Goa, Fomento Group; and, A study to enhance occupancy of International Center Goa, Goa. 
His research interest is management of relationships and marketing strategies. Teaching, and mentoring is a natural part of his personality - care, commitment, and honesty - summarizes his philosophy toward life. He is professional who loves to passionately assist people to improve their value and happiness. 
Courses taught: Marketing Management, Rural Marketing, Social Marketing
Also teaches at: Selected platforms by invitation on B2B and Services Marketing
Others: He is a seasoned business consultant and expert academic administrator.
 
Research
Publications: 
Pravat Surya Kar (2020), Vi-John's Ideation for New Product Development and Dilemmas, SAGE Business Cases, A peer reviewed case collection.
Pravat Surya Kar (2019), Air Pollution in Delhi and Six Blind Men, SAGE Business Cases, A peer reviewed case collection.
Kar, Pravat Surya (2013), Mortein Vaporizer: What Lies beneath Brand Positioning? Case Analysis III; Vikalpa, Volume 38, No 3, July - September 2013 
R.D. Bikash, S.K. Pravat and Sreekumar (2010), Factors Influencing Purchase of 'NANO' the Innovative Car from India-An Empirical Study, Asian Journal of Business Management 2(3): 48-56
 
Conferences:
Kar, Pravat Surya, (2018), "Business Students and RRA: Case for Sustainability Appreciation" presented at 3rd Sustainability summit at XUB, Bhubaneswar on 9th and 10th of Feb, 2018. 
Kar, Pravat Surya (2017), "Service Recommendation and Antecedents: A Panel Data Exploration" to the 11th Great Lakes NASMEI Marketing Conference, 22nd & 23rd December, 2017. 
Kar, Pravat Surya (2017), "Grab-A-Bite.com: Positioning Challenge – Teaching Note" IBS, Hyderabad, International case study conference 5th to 7th October, 2017. 
Kar, Pravat Surya (2017), "State of Marketing Education a Curriculum Review Template" a paper presented at – "39th ISMS Marketing Science Conference 8-10 June, 2017", at Marshall School of Business, University of Southern California, Los Angeles, USA. 
Kar, Pravat Surya (2015), "Revisiting Rural India's Periodic Markets: RRA of Two HAATs" a paper presented & chaired a session on location decision at – "37th ISMS Marketing Science Conference 
 Books:
Kar, P.S. Co-edited a Book titled "Marketing in Emerging Markets" Published by Excel First Edition: New Delhi, India 2009, (ISBN: 978-81-7446-758-4).
Book Chapters:
Kar, Pravat Surya (2018), "Sustainability Research, Practice and Role of 'Community Orientation'" in an edited book volume of the Sustainability Summit 2017, published by the Xavier University Press. 
 Others: 
Kar, Pravat Surya (2018), "A Case Study - Positioning GABC Foodtech". Published via ECCH, The Case Center. Reference number 518-0013-1. "Teaching note - Reference number 518-0013-8. 
Kar, Pravat Surya (2018), "A business game - Pricing Feni". Published via ECCH, The Case Center. Reference number 518-0008-1. "Teaching note - 518-0008-8". "Exercise Reference number 518-0008-1B. "Background note - Reference number 518-0008-5. 
Kar, Pravat Surya (2018), "GABC Foodtech Start-Up's Marketing Challenges Tn". Published via ECCH, The Case Center. Reference number 517-0147-1. Teaching note Reference number 517-0147-8
Kar, P. S., Das, Ipsita (2008), "Retailer behaviour in Nuagaon block with respect to selected consumer non-durables" Paper presented at IIM Kozhikode at Conference on Marketing to Rural Consumers.
Experience
Started professional career in 1999, during his long career he has worked with Eli Lilly, a major pharmaceutical MNC, as a territory sales manager in the south Calcutta region. Later moved to power distribution utilities like NPCL, Noida, and WESCO, Orissa, in India. During those corporate assignments his responsibilities included customer relation, business development, and project management. He has successfully led several sales & marketing campaigns both at B2C & B2B levels. He had also been associated with XIMB Bhubaneswar's consultancy wing. Prior to GIM, in academics he had launched an under graduate course in Journalism and had played a key role in organizing two national seminars & two FDPs. H had also led placement and program admin activities at different points of time. 
 
Other faculty in spotlight