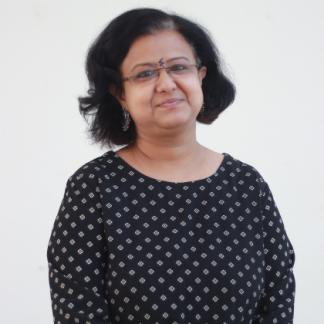 Reading
Sci-Fi/ Detective Stories
Qualifications
PhD – Jadavpur University, Kolkata
MA – Delhi School of Economics, University of Delhi
Areas of Expertise
Gender & Development; Health Communication; Health and Human Rights
Sreerupa Sengupta
Profile & History
Dr. Sreerupa Sengupta has a PhD in Women's Studies from Jadavpur University. She received a fellowship by the Tokyo Foundation for Policy Research, Japan for her doctoral research on AIDS Communication, gender and human rights. She was a Visiting Fellow at Howard University, Washington D.C., USA and the American University of Cairo, Egypt. She has attended an Advanced Professional Training Program on Global Governance and Sustainable Development organised by German Development Institute, Bonn, Germany. 
 
Sreerupa's career has spanned over 12 years in diverse sectors – academia, NGO and the industry. She has developed audio-visual educational materials for NGOs on HIV, Violence against Women and human rights.  She has taught courses on – Health and Human Rights, Sustainable Development and Social Action, Gender and Governance, Gender and Development, Qualitative Research.  
 
She has conducted MDPs (Open and In-Company) for government and public sector officials in the areas of leadership and governance, gender mainstreaming (in policy, planning and evaluation). Some of the clients were Asian Development Bank, Ministry of External Affairs, Department of Science and Technology, Oil India, Indian Oil, CIDCO, LIC, Bank of Baroda, Indian Navy. 
 
Sreerupa has conducted research in the areas of public health– HIV, health communication malnutrition (supported by UNICEF, Action Aid, India, Directorate of Economics and Statistics, Government of Maharashtra); gender and social policy (supported by HIVOS, UNWOMEN, Ministry of Women and Child Development University Grants Commission, Government of Telangana); and public service delivery (supported by Department of Administrative Reforms and Public Grievances, GoI; National Commission for Women). 
 
Courses Taught: 
Gender and Development 
Health and Human Rights
SDGs and Sustainability Reporting
Ethics and Governance
Qualitative Research
Also taught at:
Administrative Staff College of India (Hyderabad), 
National Institute of Rural Development (Hyderabad)
Sardar Vallabhbhai Patel National Police Academy (Hyderabad)
Jadavpur University (Kolkata)
Research
BOOK CHAPTERS  
Chakraborty, A and Sengupta, S. (2023). Equitable Pathways for a Sustainable Future: The Case for Mainstreaming Gender across Sustainable Development Goals. In Chakraborty, C and Pal, D (ed) Gender Inequality and its Implications of Education and Health: A Global Perspective. Emerald Publishing Limited. (Scopus Indexed) 
ISBN: 978-1-83753-181-3/ eISBN: 978-1-83753-180-6 
DOI: 10.1108/9781837531806 
Singhal, D. and Sengupta, S.  Pandemic, MOOCs and Responsible Management Education (2023). In Christian Hauser (ed.) Responsible Management Education and the Digital Transformation Challenge. Palgrave Macmillan. 
ISBN: 978-3-031-15631-1 
DOI: 10.1007/978-3-031-15632-8 
https://link.springer.com/book/10.1007/978-3-031-15632-8 
BOOK REVIEW  
Singhal, D and Sengupta, S. (2022). [Review of the book Circular Economy (Re) Emerging Movement: The path to Sustainable Development by Ms. Shalini Goyal Bhalla] Journal of Circular Economy.  
https://ic-ce.com/journal-on-circular-economy/vol01_issue01_file/ 
JOURNAL (SPECIAL ISSUE) EDITOR  
Sengupta, S (2018). Accelerating Change: Strategising for Gender Equality by 2030. ASCI Journal of Management, 47 (1). ISSN: 0257-8069 (Indexed in EBSCO)https://asci.org.in/wp-content/uploads/2020/07/Journal-471MARCHsplissue.pdf 
JOURNAL ARTICLES  
Phadnis, S., Sengupta, S., & Chakraborty, A. (2021). Work from Home, Mental Health and Employee Needs: A pilot study in selected information technology organizations in India. Asia Pacific Journal of Health Management, 16(3), 103-110. (Scopus Indexed, ABDC: C)  
https://doi.org/10.24083/apjhm.v16i3.977 
Sengupta, S, Singh, B, and R Prasanna (2016). Breaking the cycle of malnutrition in India: Surguja Fulwari, Chhattisgarh and Aman Persera, Meghalaya. ASCI Journal of Management, Vol 45, No.2 (pp. 20-35). ISSN: 0257-8069 (Indexed in EBSCO).
Sengupta, S, Singh, B and Srivastava, K. (2016). Right to consent: Lado Campaign, Madhya Pradesh. ASCI Journal of Management, Vol 45, No.2 (pp. 42-55). ISSN: 0257-8069 (Indexed in EBSCO).https://bit.ly/38uaGAD 
POLICY PAPER/POLICY BRIEF 
Sengupta, S and Sinha, A (2022). Localising SDGs in India: The Role of Government and Private Training Institutes. Bonn: German Institute of Development and Sustainability  
https://www.die-gdi.de/en/discussion-paper/article/localising-the-sdgs-in-india-the-role-of-government-and-private-training-institutes/ 
Sengupta, S (2021). Community and Risk Communication: Experience of COVID- 19 Communication in India. Voices for the SYLFF Community, E-Newsletter, Tokyo Foundation for Policy Research.https://www.sylff.org/news_voices/29095/ 
Reports
Ravarappu, S., and Sengupta, S., 2017. Socio Economic and Gender based evaluation of Individual Category B Assets under MGNREGA in Telangana. Hyderabad: National Institute of Rural Development.
Sengupta, S., 2017. Assessing Gender Sensitivity of Print Media Organisations and Content: Evaluation of Selected Print Media Houses in Four Metro Cities. New Delhi: Ministry of Women and Child Development, Government of India. 
Shahaida P. and Sengupta, S., 2015. Assessment of CSR Activities of Bharat Dynamics Limited. Hyderabad: Bharat Dynamics Limited.  
Blog Articles
Conferences Attended (Selected)
Chakravarti, P. and Sengupta, S. Sexual Harassment, Ragging and Higher Education Campuses: The Case of Jadavpur University. In XVI National Conference on Women's Studies, Guwahati, 2014.
Sengupta, S., Gender and Human Rights in HIV&AIDS Communication. In Ryoichi Sasakawa Young Leaders Fellowship Fund (SYLFF) Administrator's Meet, Tokyo Foundation, Japan, 2010.
Sengupta, S., Doing cross-country Research: Experiences from the Field. Department of Anthropology, Howard University, USA, October 2009.
Sengupta, S., Countering the Violations and Violence: A Review of Legislations and Policy. In International Congress on AIDS in the Asia and the Pacific, Colombo, 2007.
Sengupta, S., Violence and HIV-positive Women: Case Studies from Kolkata. In  National Consultation on Universal Access to HIV Prevention, Treatment, Care & Support for Women & Children, NACO, UNAIDS & UNODC, New Delhi, 2007.
Sengupta, S., Gendering history in school textbooks. In Eastern Region Seminar on Feminism and the Production of Knowledge, Indian Association for Women's Studies & Jadavpur University, 2007.
 
Experience
Assistant Professor, Administrative Staff College of India, Hyderabad
Guest Faculty, Department of Sociology, Jadavpur University, Kolkata
Senior Research Fellow, School of Women's Studies, Jadavpur University, Kolkata
Sub Editor, Graphiti, The Telegraph, Kolkata
Consultant, Action Aid, Kolkata
 
Other faculty in spotlight