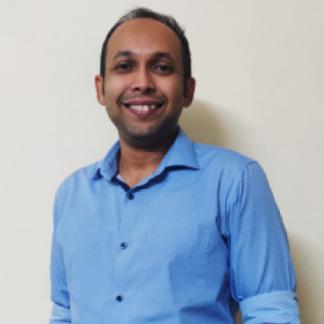 B.E, P.G.D.M, M.E., Pursuing Ph.D.
Information Technology & Operations Management
Vishwesh Singbal
Profile & History
Vishwesh is Senior Lecturer in the Information Technology & Operations Management area at Goa Institute of Management. He is currently pursuing a doctoral degree from SJMSOM, IIT Bombay. His research involves analytical and simulation modeling of multi-aisle automated storage and retrieval systems (AS/RS). His research is published in reputed international journals. 

Prior to enrolling for the full-time Ph.D. program in 2016, Vishwesh worked the industry for over 7 years. He started his career in 2006 as a software engineer with Geometric Ltd. (now part of HCL Technologies). He later obtained a PGDM from Goa Institute of Management and thereafter worked with Zuari Agro Chemicals Ltd. (ZACL), Goa from 2011 to 2016. At ZACL he handled various responsibilities in the import and distribution of fertilizers, contract management, and procurement of direct and indirect materials. 
Areas of Expertise: 
Analytical and simulation modeling • Warehouse design and analysis • Supply chain management • Procurement management • Python programming
 
Research Submissions
Singbal, V. and Adil, G. K. (2021). "Comparison of discrete and continuous travel time models for a multi-aisle AS/RS under different operating conditions," International Journal of Services and Operations Management 40(1), 87-108. [listed in ARC 2018, Scopus CiteScore 1.2] doi: https://doi.org/10.1504/IJSOM.2021.117658
Singbal, V. and Adil, G. K. (2021). "Designing an automated storage/retrieval system with a single aisle-mobile crane under three new turnover based storage policies" International Journal of Computer Integrated Manufacturing 34(2), 212-226. [ABDC: B, Impact factor 2.861] doi: https://doi.org/10.1080/0951192X.2021.1872104
Singbal, V. and Adil, G. K. (2019). A flexible approach to designing a single crane, multi-aisle automated storage/retrieval system considering storage policies, transport equipment, and demand skew," International Journal of Computer Integrated Manufacturing 32(11), 1053-1066. [ABDC: B, Impact factor 2.861] doi: https://doi.org/10.1080/0951192X.2019.1686169 
Singbal, V. and Adil, G. K. (2019). "A simulation analysis of impact of design and storage policy on performance of single-crane multi-aisle AS/RS". IFAC-ChaptersOnLine 52(13), 1620–1625 [Scopus CiteScore: 2.1]. doi: https://doi.org/10.1016/j.ifacol.2019.11.432   (Part of special issue: 9th IFAC Conference Manufacturing Modeling, Management, and Control MIM 2019: Berlin, Germany, 28-30 August 2019, edited by Dmitry Ivanov, Alexandre Dolgui, Farouk Yalaoui)
Mishra, B. P. and Singbal, V. (2011). "Policies and reforms in fertiliser sector: an overview". Indian Journal of Fertilisers 7(9), 78-87  
 
Teaching Case-Studies
Teaching case studies
Singbal V., Adil, G. K. and Rakesh V. (2020). "Case–Forward-Reserve Storage Design: A Case of Carriage Repair Workshop, Indian Railways," INFORMS Transactions on Education 21(1), 35-40 [listed in ARC 2018, Scopus CiteScore 0.7] doi: https://doi.org/10.1287/ited.2019.0228cs
Rakesh V., Adil, G. K. and Singbal, V. (2019). "Automated Storage/Retrieval Systems for a Maintenance Facility – A case of Carriage Repair Workshop, Indian Railways", Operations Management Education Review 13, 97-122 doi: https://www.neilsonjournals.com/OMER/abstractomer13indianrailways.html
 
Conferences
Presented paper at 9th IFAC Conference Manufacturing Modeling, Management, and Control MIM 2019 in Berlin, Germany during 28-30 August 2019
Presented paper at 12th Annual ISDSI Conference in Mumbai, India during 27-30 December 2018
Attended Fertilizer Association of India Conference on "Efficiency Improvement & Cost Optimization in the Fertiliser Sector" during September 2012 at Goa
Attended Fertilizer Association of India Conference on "Shipping, International Trade and Port Handling Operations of Fertilisers/Raw Materials/Intermediaries and Government Policy" during February 2012 in Kochi, Kerala
Attended Fertilizer Association of India Conference on "Fertiliser Policies – Financial and Marketing Management" during August 2011 in Chennai, Tamil Nadu
Other faculty in spotlight