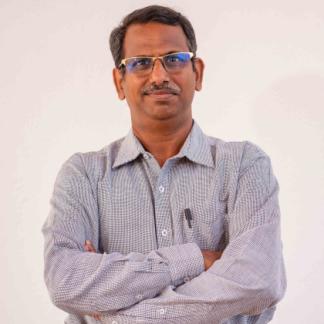 Qualifications
MCA (GU)
FDP( IIM- Ahemedabad )
M Phil ( Management, GU )
Areas of Expertise
Information Systems, eCRM, DBMS, Data Warehousing and Data Mining
Vithal S. Sukhathankar
Profile & History
He is the assistant Professor in the Systems area. He is working with Goa Institute of Management for last seven years.He is also a visiting faculty at Goa University's Department of Management Studies, Department of Computer Science. He is the faculty and Examiner for the different courses in the said departments. He is also the approved project guide. He was on the BOS of Goa University for the different courses at Graduate and Post -Graduation levels. He was the expert for the BBA and BCA courses of the Goa University. He is the resource person in designing the System courses and MIS for the BBA of Goa University. He is the senior most counselor on the IGNOU for MCA, MBA and BCA program and approved project guide. He is the approved project and dissertation guide for Annamalai University. He has guided many students for their final year project work at MCA, BE, MBA level. A Special invitee for the Department of Commerce for its M.Comm., M.Comm (DM) and MFS courses. He has designed the courses curriculum for the Government of Goa Gazetted officers under its E-Governance program and has imparted training to them. He is on the IT strategic group formed by the Government of Goa and is also a member of the IT Council of GCCI and the Budget Committee of GCCI. He was the chairman for HR connect 2004 & 2005 organized by GCCI. He has presented papers at different national level seminars. A member of CSI and ISTD.His area of interest is eCRM, DBMS, OOPS, Data ware housing, and Data Mining.

Courses taught: MIS, DBMS, Decision Support Systems, Business Intelligence
Research
Publications:
"eBanking at Bank de Goa". This case was developed, completed and published in the book under the guidance of Prof. M Dixit, Professor, IIMA February 2008.
"Customer Satisfaction formation process for the low cost Airlines: A Case study of the India players.", This paper was presented for the 8th International conference organized by Verginia Commonwealth University 2007.
"Implementing KM at small and medium software firms: Study of failure factors". This paper was presented at 2nd International conference on management organized by IBSA, Ahmedabad. I got god inputs from Prof. M R Dixit, Professor, IIM, Ahmedabad and Prof. Sanjay Verma, Professor, IIM, Ahmedabad Dec 2007.
"CRM for the Goan Tourism" this paper was presented at the national conference organized by NMIS, Mumbai October 2006.
Experience
Lecturer at Computer Science College, Goa. For 5 years
Faculty in Systems area at Goa Institute of Management, Ribandar Goa.
Other faculty in spotlight