Alekh Gour
91-832-2366886 / 91-9425053310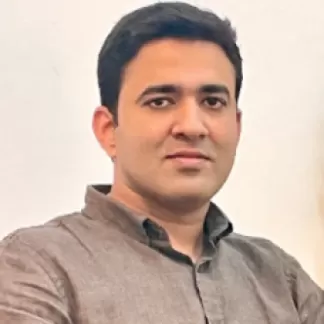 Areas of Expertise
Business Analytics, Machine Learning, Web and Social Media Analytics, Healthcare Analytics, Health IT, Soft Computing, Bioinformatics, Tourism Analytics, Uncertainty Analysis and Decision Sciences.
Alekh Gour
91-832-2366886 / 91-9425053310
Profile & History
Dr. Alekh Gour is currently working as Associate Professor in the institute. He is a Researcher and Academician. He has done his graduation in Computer Science and Engineering and post-graduation in Bioinformatics. He has diverse teaching experience in the areas of Computer Science and Bioinformatics. He has been awarded with PhD in the field of Bioinformatics by NIT Bhopal. His major research area is "Data Analytics Techniques in Bioinformatics". He has published research papers in reputed national and international journals. He has conducted several workshops and MDPs in different areas of Data Science. He has also been awarded with Young Scientist Award by M.P Council of Science and Technology, Govt. of Madhya Pradesh. Recently he has been awarded as "InsideIIM Professor of the Year 2020 at GIM".

Courses taught: Advanced Business Analytics, Healthcare Analytics, Machine Learning in Healthcare, Predictive & Prescriptive Analytics, Web and Social Media Analytics.

Positions Held
Placement Chair (PGDM-BDA) at GIM, Goa (April 2020-Till Date)
Member of Centre for Excellence in Research (CER) at GIM, Goa (Dec 2019-Till Date)
Member of Management Development Programme (MDP) team at GIM, Goa (May 2018-June 2020)
Coordinator Give Goa Health (Field based CSR activity of GIM) (May 2018- June 2020)
Management Development Programs
Coordinated two days MDP on Supply Chain Management for executive of Colorcon July 2018
Organized two days MDP on Supply Chain Management at Goa Institute of Management (28-29 November 2019)
Delivered Expert lectures on "Machine learning theory and application" in one day workshop on Big Data Analytics at Naval War College 24th June 2019
Delivered multiple session on "Machine learning" in five day workshop on "Data analytics and Artificial Intelligence" at Naval War College for officers of Indian Army, Navy and Airforce during 21-25 October 2019
Organized three days MDP on Data analytics for Advance Research at Goa Institute of Management (18-20 Feb 2020)
Delivered expert lecture on "Predictive Analytics and Forecasting" in Management Development Program on 'Advancements in Supply Chain in Healthcare' for executives of Johnson & Johnson (J&J) on 7th March, 2020
Also Teaches: NIT Bhopal
Others: Attended FDP at IIM Bangalore and IIM Kozhikode
 
Research
Publications:
Gour, A., Aggarwal, S., & Kumar, S. (2022). Lending ears to unheard voices: An empirical analysis of user‐generated content on social media. Production and Operations Management, 31(6), 2457-2476. [FT-50][ABDC-A*]
Upadhyay, S., Upadhyay, N., Gour, A., & Mehra, P. (2022). Examining WHO's Crisis Communication in Issue Arenas during COVID-19: A Socio-semantic Network Analysis. International Journal of Strategic Communication, 16(4), 599-619. [ABDC-B]
Gour, A., Aggarwal, S., & Erdem, M. (2021). Reading between the lines: analyzing online reviews by using a multi-method Web-analytics approach. International Journal of Contemporary Hospitality Management. [ABDC-A][SCI, SCOPUS] [JCR Impact factor: 5.66]
Aggarwal, S., & Gour, A. (2020). Peeking inside the minds of tourists using a novel web analytics approach. Journal of Hospitality and Tourism Management, 45, 580-591. [ABDC-A][SCI, SCOPUS] [JCR Impact factor: 3.4]
Gour, A., & Pardasani, K. R. (2020). Type II fuzzy set-based data analytics to explore amino acid associations in protein sequences of Swine Influenza Virus. Applied Soft Computing, Elsevier, 88, 105856. [SCI, SCOPUS] [JCR Impact factor: 5.472]
Gour, A., & Kumari S, (2020). A 360 Degree View of A Hospital by Analyzing Patient's Online Reviews Using Fuzzy Sentiment Analysis. Journal of Health Management, Sage Publications. [Accepted for Publication]
Gour, A., & Pardasani, K. R. (2019). Soft Fuzzy Set Approach for Mining Frequent Amino Acid Associations in Peptide Sequences of Dengue Virus. Proceedings of the National Academy of Sciences, India Section A: Physical Sciences, Springer 88(4), 529-538. [SCI, SCOPUS][JCR Impact factor: 0.921]
Mujwar, S. et al., & Gour, A. (2019). Drug Repurposing Approach for Developing Novel Therapy. Assay and drug development technologies, 17(7), 298-309. [SCI, SCOPUS] [JCR Impact factor: 1.4]
Gour, A., & Pardasani, K. R. (2018). Statistical and Soft Fuzzy Set Based Analysis of Amino Acid Association Patterns in Peptide Sequence of Swine Influenza Virus. Advanced Science, Engineering and Medicine, 10(2), 137-144. [SCOPUS]
Gour, A., & Pardasani, K. R. (2017) Weighted Soft Set Approach for Mining Frequent Amino Acid Associations in Peptide Sequences of Swine Influenza Virus. International Journal of Life Science and Pharma Research, 8(1), 41-49. [E-SCI]
Other faculty in spotlight